APRIL 15, 2021
A MESSAGE FROM THE TAHOE YACHT CLUB FOUNDATION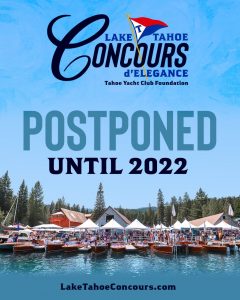 The in-water Lake Tahoe Concours d'Elegance will not be held this summer but will return August 12-13, 2022. We understand this is not the news that anyone wanted to hear but know the decision was not made lightly. The number one concern of the Tahoe Yacht Club Foundation and Obexer's Boat Company is the health and safety of attendees, staff, volunteers, and the entire Lake Tahoe community. At this time, there are too many unknowns surrounding the pandemic in the state of California. After a lot of research and many heartfelt conversations with Obexer's as well as key stakeholders and vendors of the show, the Foundation determined it is in the best interest of all involved to postpone Concours until next summer.
If you purchased tickets to the 2021 show, you will receive a full refund. We will be reaching out individually to the boat owners who registered for the 2021 show.
Our Foundation will once again hold a Virtual Lake Tahoe Concours d'Elegance this summer. Set to launch this June, the virtual show allows us to share our love for wooden boats while aiding organizations that allow maritime traditions to thrive. The Lake Tahoe Concours d'Elegance is the largest fundraiser for the TYCF and postponing the in-person show for a second year is a major setback for the non-profits that benefit from our Foundation. We will not, however, let this hinder our mission of ensuring the preservation of the Tahoe marine environment and our local community. We will release more details on the virtual show soon and hope you will join us in our cause.
The Foundation and Obexer's are already looking forward to next year and producing a boat show at the caliber you've come to expect from the Lake Tahoe Concours d'Elegance. Our goal is and always will be to live up to our title as North America's premier wooden boat show by giving you an unforgettable wooden boat experience set in the unsurpassed beauty of Lake Tahoe. The Lake Tahoe Concours d'Elegance will return to the historic Obexer's Boat Company in 2022 with a celebration of the biggest name in classic boating, Chris-Craft. 2022 marks the 100th anniversary of the Chris-Craft name and Chris-Craft production. Six decades of antique and classic Chris-Crafts will be featured from 1922 through the early 1970s. We expect it to be among the largest Marque Classes in Concours history!
We can't wait to see you all on the docks again soon.