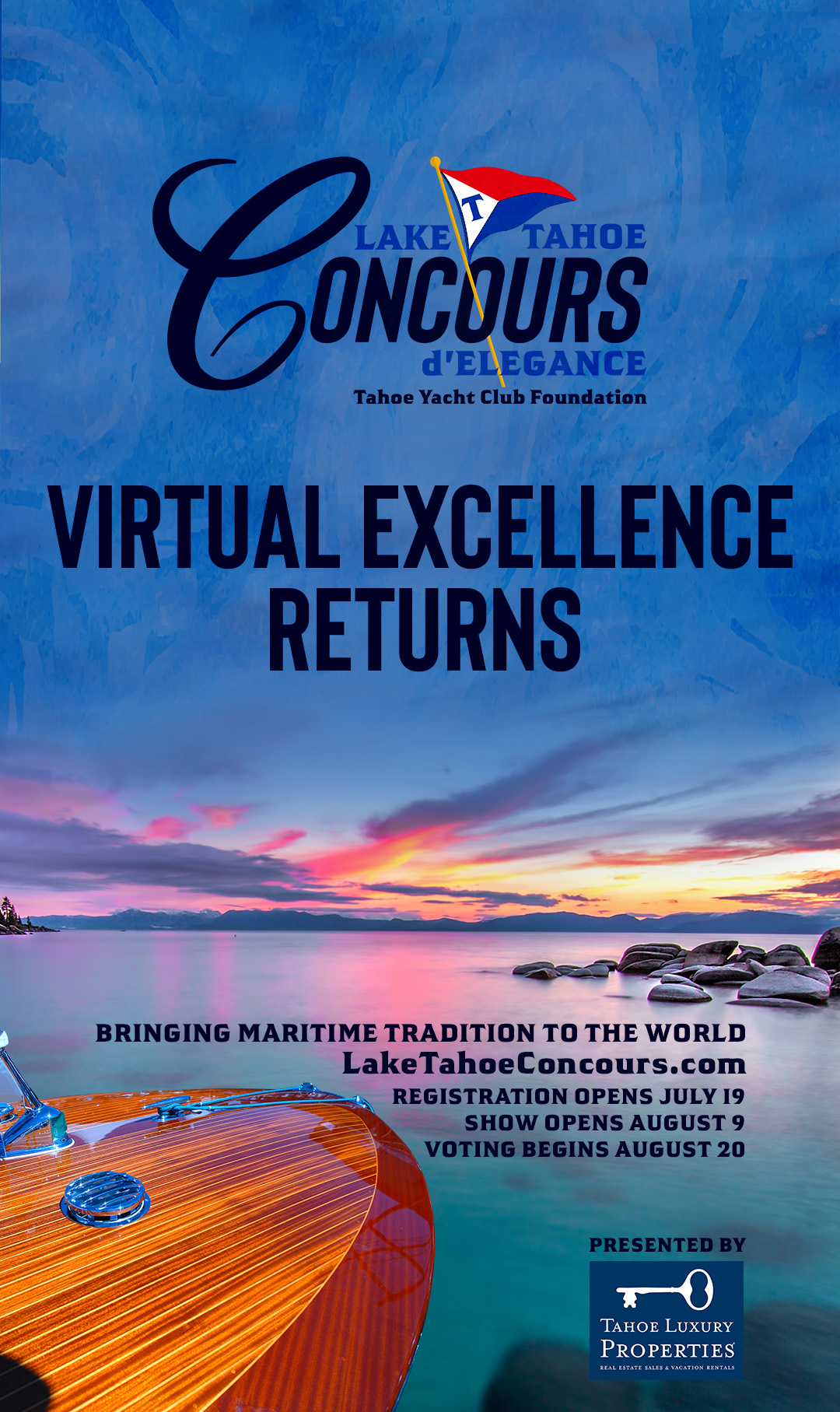 THE 2021 VIRTUAL
LAKE TAHOE CONCOURS D'ELEGANCE
The Tahoe Yacht Club Foundation welcomes you to the 2021 Virtual Lake Tahoe Concours d'Elegance! Presented by the Tahoe Yacht Club Foundation, this exhibition of boats from around the globe features high-definition photographs, the roar of engines, virtual boat rides, and the stories behind each watercraft.
Over the past four and a half decades, the Lake Tahoe Concours d'Elegance has built an unsurpassed reputation as an exhibit of the most well-preserved and restored wooden boats on Earth. The 2021 virtual show takes this display of classic and antique boats from the shores of Lake Tahoe into homes around the world.
The 2021 Virtual Lake Tahoe Concours d'Elegance features four categories:
Wood Boats Pre-war
Wood Boats Post-war to 1965
Wood Boats Post-1965
Classic Non-Wood Boats.
WINNERS ANNOUNCED SEPTEMBER 24TH
VOTING IS CLOSED
Beginning August 20th, boats lovers from around the world will vote for their favorites, and two trophies will be awarded for Best in Show:
Best of Show Wood
Best of Show Non-Wood
Winners will be announced September 24th.
Pour yourself a drink, get cozy, and explore the beauty and craftsmanship of maritime tradition.
DONATE TO THE CAUSE
Your donation will directly benefit the Tahoe Yacht Club Foundation with proceeds going back into the Lake Tahoe Community. The Foundation's mission is to share its passion for wooden boats by aiding non-profit organizations within the Lake Tahoe community, such as the Tahoe Community Sailing Foundation, that help foster maritime skills and interests.

Portofino
1969 RIVA AQUARAMA
COMANCHE
1947  HACKER CRAFT
HORNET II
1934 GAR WOOD HYDROPLANE
THUNDERBALL
1959 RIVA TRITONE
SAPPHIRE
1998 HACKER-CRAFT
DREAMCATCHER
1978 PHILBRICK
WEST WINDS
1947 CHRIS-CRAFT SPORTSMAN
ROY DRYER
36 years of poster excellence – available now!
ALPHA WAVES
1972 DAN ARENA XL
BRIAN'S WEIGH
1955 WAGEMAKER WOLVERINE DELUXE W-14
COPACABANA
1955 RIVA ARISTON
MARIGOLD
1969 BESOTES UTILITY
'55 BARRACUDA
1955 BARRACUDA SPORTSTER
GERT TOO
1960 CHRIS-CRAFT SPORTSMAN
INEVITABLE
1957 CHRIS-CRAFT SEDAN CRUISER
TAHOE HEIDI
1960 CHRIS-CRAFT CAPRI
REEDVILLE MARINE RAILWAY
REEDVILLE, VIRGINIA
GOLDEN 21
2017 IMX COMPOSITES
BELLA VITA
1959 RIVA ARISTON
MAINSTAY
1956 MATTHEWS MARTINIQUE EXPRESS CRUISER
OORAH
1940 STAUDACHER-HACKER RUNABOUT
MISS TESSA
1930 DODGE 16A DUAL-COCKPIT RUNABOUT
BOAT #1
1965 "RICHARD W. SCHERFF" CUSTOM
GINGER
1962 CENTURY RESORTER